| | | |
| --- | --- | --- |
| Welcome | | You are not currently logged in. |
Organize Today!

Looking for more information on Organizing your workplace?
Click Here
| | | |
| --- | --- | --- |
| | | |
| | | |
| | | |
The pictures below represent some artwork done by a fellow Boilermakers in the Portland area. He does tattooing on hard hats, drawnings, air brush,pretty much anything. If you would like more info on getting something like this done for yourself give him a call and he will quote you a price. Read More...
WELDERS
Need 5 to start hiring process immediately. Work mostly in PSNS Bremerton, with some at Everett location. Must be able to pass background check.
Call the Hall for more info 206-623-6473
We have a local boat yard that needs Journeyman and Mechanic grade rigging skills. They are looking to hire 2 people who can help lift lead ingots from a boat. After this work is done, the company would like to retain said persons as riggers. If you have rigging skills, and dont mind lifting lead ingots for a few days, give the Hall a call and we can get you dispatched out to perform this work.
Hall Phone#: (206)623-6473
A Seattle Boatyard needs an Assistant forman. If you fit the requirments below please contact the Hall at (206)623-6473 and we will supply you with the information you need to apply for the position.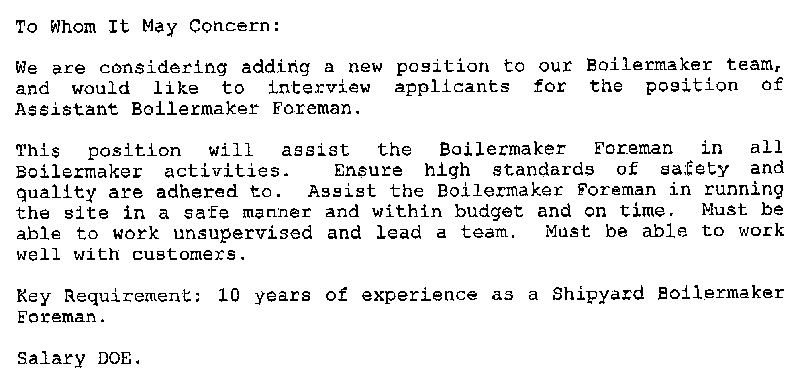 Brothers and Sisters, for a donation of $15 dollars to LEAP you can take one of these home!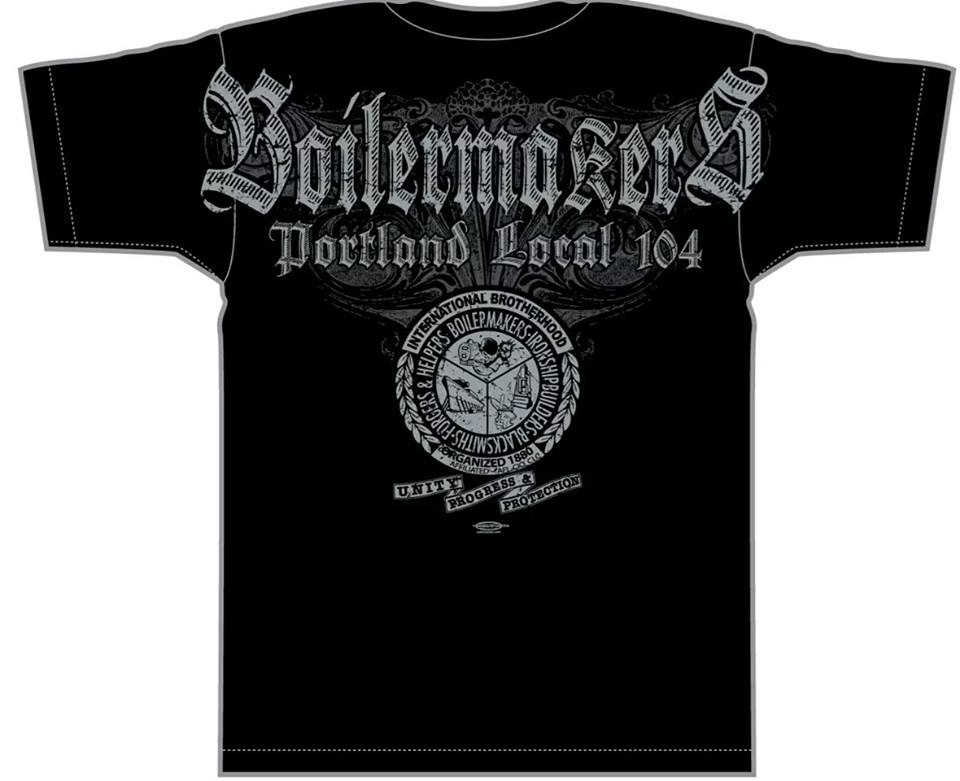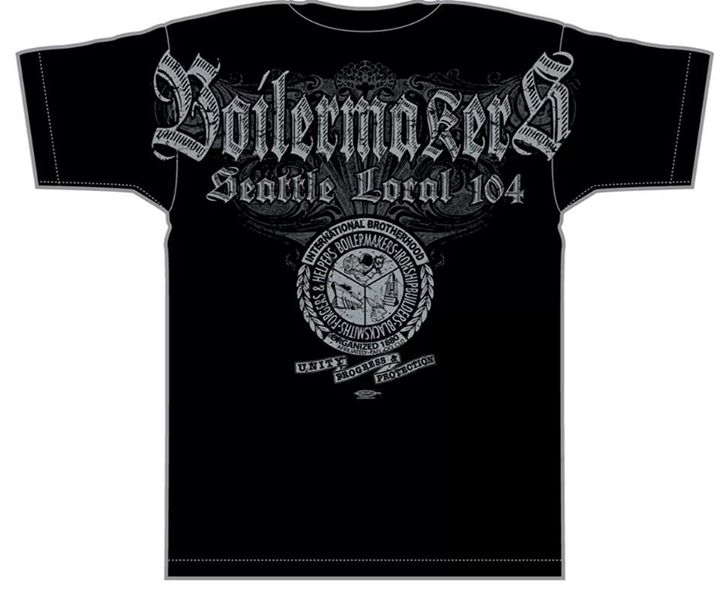 Brothers and Sisters, Local 104's next General Membership Meeting is scheduled to take place Saturday September 19th in Portland. The meeting will begin at 9:30 am at the Portland Local 104 Hall located at 2515 NE Columbia Blvd. As a result, we will not be holding our monthly informational meeting in Portland that are scheduled for the second Thursday or every month. Read More...
August 20, 2015
Current Events
Brothers and Sisters,
Historically our industry of Ship Building and Ship Repair seems to slow down during the summer months. As work begins to slow down, members get laid off accordingly. We've grown accustom to having a few months off during the summer to spend time with our friends and families, and some even look forward to having a little time off as well.
This practice is understandable, we work our tails off for roughly 8 or 9 months from early fall to late spring. However as our industry continues to change, we as members need to realize that we need to change along with it. Local 104 now has two (2) fully functional training facilities. One in Seattle and one in Portland. So as work slows down, and members get laid off, I'm encouraging all members, regardless of skill level, to utilize the training facilities that YOU pay for.
Something else that I'm sure you've heard me talk about during every membership meeting, is the fact that there's been a lack of active organizing efforts throughout Washington and Oregon the last few years. Local 104 needs your help to encourage and educate friends and family members working at non-union companies.
Seattle and especially Portland members keep in mind, that if you get laid off for any duration of time, you can help by applying at a non-union employer. I'm encouraging members to seek employment with our non-union competitors with the intention of creating discussion with the workforce. There are steps that Local 104 will help you with that could lead to a winnable organizing campaign. The point that I'm making is that without taking the first step, we aren't taking enough action to better our organization.
Keep in mind that Union Representation by the Boilermakers can be for any type of work regardless if the nature of work is related to shipbuilding, ship repair and metal fabrication. Boilermakers Represent Brothers and Sisters covered under Collective Bargaining Agreements with Taxi Services, Nursing, Golf Ball Manufacturing, Commercial Truck Driving, Car Washes and Electric Motor Repair. Basically there's nothing Local 104 members can't do.
Regardless of the nature of work your friends and family members perform, Representation is what matters. Not the name of the Organization Representing those workers. Spread the word, encourage and educate everyone you speak with on a daily basis. The greatness of our Brotherhood begins with the Brothers and Sisters belonging to it.
Below is a general list of our non-union competitors. If you've worked or know someone who is or has worked, or would like to apply and become employed at one of these employers listed below, please let me know. It is no secret that one of my biggest passions is organizing. There's no greater feeling than seeing a group of workers finally stand together and gain the power to control the terms and conditions they work under, while taking that power away from the employer.
Feel free to contact me or any Representative of Local 104 if you have any questions regarding organizing. I remain
In Solidarity,
____________________________
Brian Opland
Business Manager/Sec. Treasurer
Boilermakers Union Local 104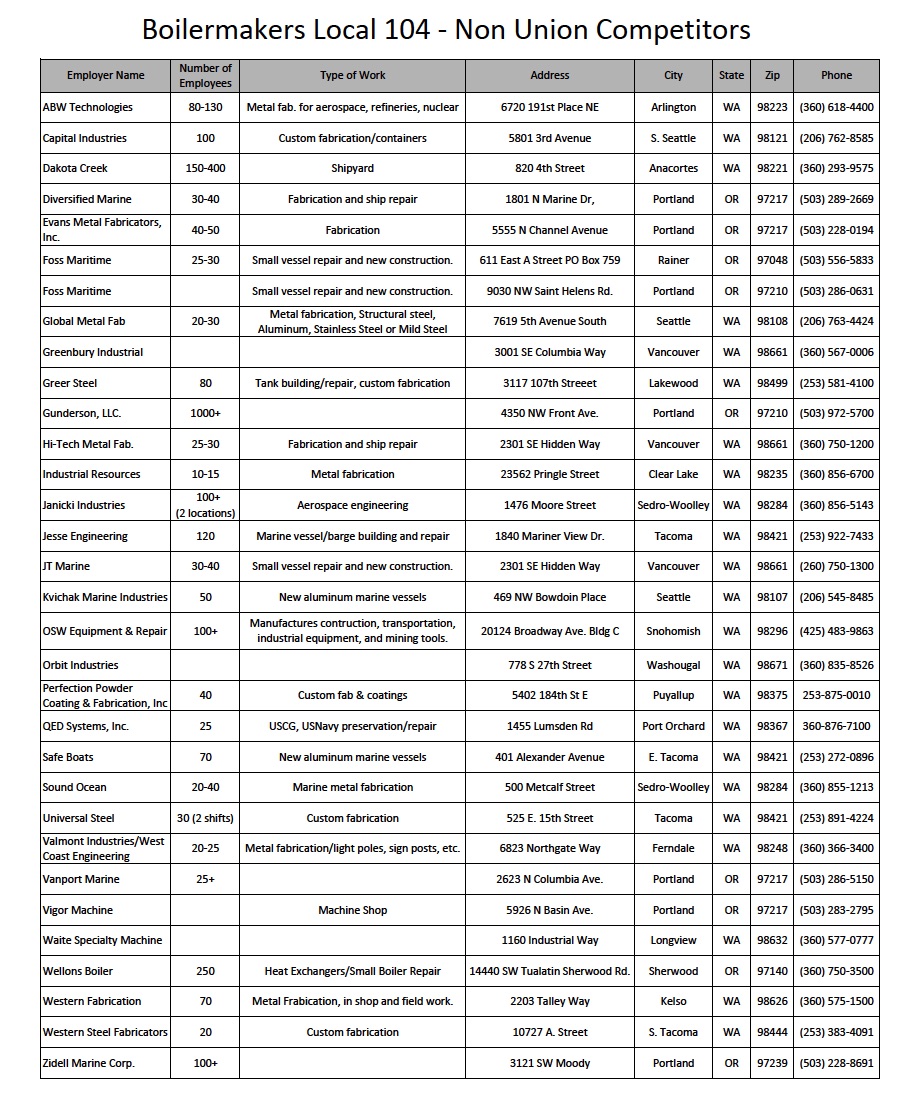 Call the Hall for info on this position.
Union Hall: (206)623-6473