| | | |
| --- | --- | --- |
| Welcome | | You are not currently logged in. |
Organize Today!

Looking for more information on Organizing your workplace?
Click Here
| | | |
| --- | --- | --- |
| | | |
| | | |
| | | |
Brothers and Sisters,
A Seattle area shipyard is holding open interviews and weld tests this Thursday, September 14th from 8am to 330pm. They are looking for a total of 20 new employees, with Welding and/or Fitting skills. We are currently working through the out of work list and referring members, but please feel free to contact the Seattle office at 206-623-6473 for more information.
Boilermaker Local 104 Hoodies available now for a $45 donation to LEAP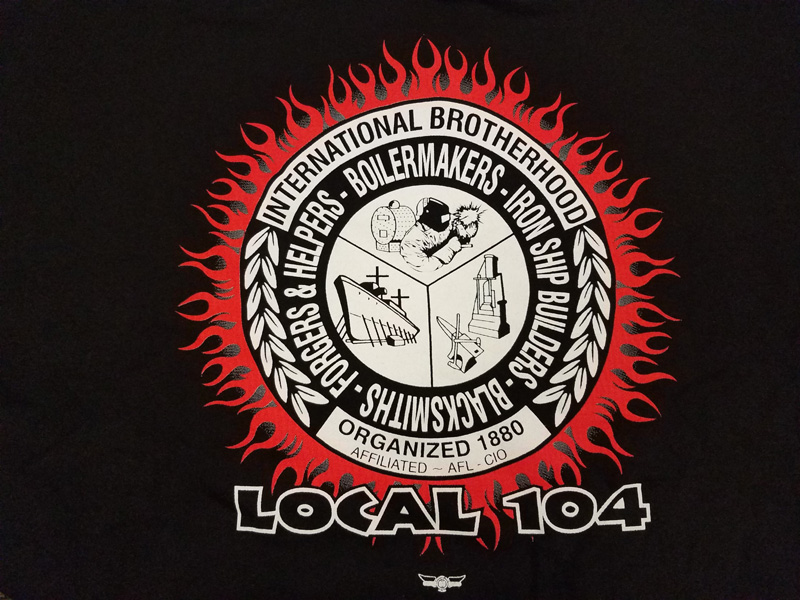 Bob Kimbrough passed away on 9-16-16 in Estancia New Mexico. This photo was taken approx.. 1982 in Fairbanks and was one of Jaffa Construction's earliest large job. Former 104 members left to right but not in order, (blonde head showing) Todd Kerr, Jerry Kerr, , Lonnie Scott, Charlie Winston (Retired), Ed Post, Bob Kimbrough, Bruce Jaffa, "Skip" Reutter, Ben Irons, Ed Tiller, Marty Woods, Jim McPherson. Other members who came from all over and were in first in 498 then later 502 were Ron Thebeau (past away this Spring) and Joe Poirier. Also shown is Mike Gauthier from Maine and client reps. This was while Dave Chess was our 498 Business Agent.