| | | |
| --- | --- | --- |
| Welcome | | You are not currently logged in. |
Organize Today!

Looking for more information on Organizing your workplace?
Click Here
| | | |
| --- | --- | --- |
| | | |
| | | |
| | | |
This position has been closed for applications.
The City of Seattle is currently excepting applications for the Bridge Maintenance Mechanic position here at the City Bridge shop. This is the journeyman position in the Bridge Maintenance Mechanic series.
This position is a career opportunity for some one. We are in need of a mechanic with a good background of hydraulic experience as listed in the desired qualifications
For these positions the applicant needs to provide a strong resume detailing experience and amount of time. The basic resumes we have received in the past for these positions are not very detailed, the short and sweet 1 page resume detailing the companies worked for from year to year is not enough, we need the candidate to explain their experience in a fashion so it relates to this job ad.
This position reports to the Bridge Maintenance Mechanic Crew Chief and supports departmental goals in promoting diversity, race, and social justice.
Job Opportunities
Job Title:
Bridge Maintenance Mechanic
Job Number:
2016-00612
Salary:
$34.44 - $35.34 Hourly
Location:
SDOT - Five movable bridges on Seattle's waterways, Seattle, Washington
Job Type:
Classified Civil Service, Regular, Full-Time
Shift:
Day
Department:
Seattle Department of Transportation
Bargaining Unit:
Boilermakers Union, Local 104
Closing Date/Time:
Tue. 06/28/16 4:00 PM Pacific Time
The City of Seattle's Department of Transportation (SDOT) has an exciting opportunity to work in the Capital Projects and Roadway Structures Division in the Bridge Maintenance Unit, working with a team of professionals whose vision is "to be the most innovative and responsive transportation agency in the region."

This position, under general supervision, performs on-site restoration, maintenance, repair, and new construction of bascule bridges, tunnels, fixed spans, subways, seawalls, stairways, and associated structures. This position reports to the Bridge Maintenance Mechanic Crew Chief and supports departmental goals in promoting diversity, race, and social justice.
Job Responsibilities:
Performs skilled oxyacetylene and electric arc welding of all types of metals and alloys on bascule bridges, fixed spans, and subways.
Performs fabrication and repairs on bridge structural members, truck booms, brackets, frames, pump installations, tanks, panels, tools, shafts, steel stairways, catwalks, ladders, gear covers, and railings.
Cuts, shapes, and welds metal and alloy plates, parts, and structural members; prepares metals and alloys on shafts, and bits and tools for machining.
Replaces and repairs expansion joints; installs anchor bolts and tightens existing anchor bolts; and sets transflexers in close tolerance.
Interprets drawings and specifications and lays out work.
Installs, replaces, and repairs new steel storm drains, water lines, pumps, plumbing, and piping associated with bridge and subway structures, and new sewer hookups.
Maintains and repairs various mechanical plumbing systems such as fire suppression pneumatic and hydraulic systems.
Builds new traffic gates for bridges.
Builds forms for large structural parts, does steel reinforcement work, patches cement curbs and railings.
Estimates materials, personnel requirements, and equipment needed for specific tasks.
Drives and operates a variety of equipment in excess of 26,000 GVW, including cranes such as fixed cab and articulating boom trucks and the Under Bridge Inspection Truck (UBIT).
Prepares rigging; erects platforms and staging at extreme heights; hoists and places steel beams and other materials to affect repairs.
Acts in a lead capacity over helpers; coordinates work activities with associated work crews.
Performs other related duties of a comparable level/type as assigned.
These responsibilities are only a summary of typical functions of the job and are not intended to be an exhaustive or comprehensive list of all possible job responsibilities, tasks, and duties.
Qualifications:
Minimum Qualifications
Four years of metal working experience equivalent to recognized journey-level status and a high school diploma (or a combination of education and/or training and/or experience which provides an equivalent background required to perform the work of the class).
Ability to effectively work in a multicultural workplace with a diverse customer base.
Work Environment/Physical Demands
Perform work at extreme heights, frequently while suspended from baskets, scaffolding, or safety belts.
Work with potentially hazardous, tools, materials and equipment, such as welding equipment and under dangerous conditions such as high bridge structures, underground or in small boats under piers.
Work outdoors in all weather conditions, in heavy traffic, and with regular exposure to noise, fumes, dirt, dust, and cold.
Required to climb, bend, stoop, and lift objects weighing up to fifty pounds for extended periods of time.
Required to work overtime, irregular hours, holidays and weekends to respond to emergency situations. This may require being on-call 24 hours a day, 7 days a week.
License, Certification, and Other Requirements
Must pass a written, skills and abilities exam, and a working test.
A valid Washington State Driver's License is required for employment. This license must be maintained throughout employment.
A Commercial Driver's License (CDL) Class "B" with the air brake restriction removed and a valid Medical Certificate are required within 90 days of employment. This license and certification must be maintained throughout employment.
A "complete" five-year Driver's Abstract of Driving Record (obtained at applicant's expense) must be submitted on request.
Pre-employment and random tests in compliance with the Federal Department of Transportation Drug and Alcohol Testing Program Requirements.
A State of Washington Boater Education Card or U.S. Coast Guard Marine Operator's License will be required if operating a boat.
A valid Washington State Flagging Card, First Aid/CPR card, forklift certification, and/or a defensive driving course certificate may be required within 6 months of employment.
Training in an emergency management system such as National Incident Management System (NIMS).
Fall Protection, Lead Testing and Confined Space Entry training are required within six months of employment.
Entry into SDOT's Respiratory Protection program is required within 6 months of employment and annually thereafter.
Maintain industry and regulatory certifications for Bridge Maintenance Units' activities such as Arial Lift Equipment, Hazardous Materials Handling are required within 6 months of employment.
The successful candidate will have or must within 6 months of employment be able to obtain a valid Crane Operators Certification for Straight Boom and Articulating Boom Trucks.
Desired Qualifications
Supervisory experience as a lead in maintenance or construction crews.
Demonstrated background of good attendance.
Experience working with heavy equipment and able to operate truck cranes, excavators and loaders and other construction equipment.
Strong experience and knowledge working on complex hydraulic systems including design and schematics interpretation, routine maintenance, system diagnosis, repair/rehabilitation, and condition assessments.
Multilingual ability a plus.
Additional Information:
Hiring Process

Applications are reviewed after the posting closes, only those applicants selected for an interview will be contacted. Submit the following items to be considered for this vacancy:

1. Completed NEOGOV online (or paper) application.
2. Supplemental questionnaire responses.
3. A cover letter AND résumé.

Your application may be rejected if these items are missing or incomplete. Attaching or pasting a cover letter and résumé alone is not a substitute for completing the application itself.
Job offer is contingent upon verification of credentials and other information required by the employment process which may include a criminal history background review, reference checks, driving history review and pre-employment medical examination.
To learn more about Seattle Department of Transportation, check out our webpage at:
webpage
This Minion BBQ was made by members of Local 104. Boilermakers are creative people!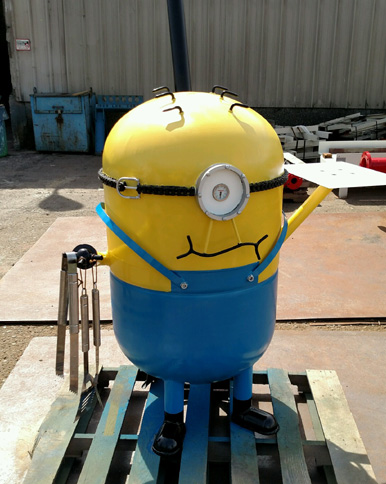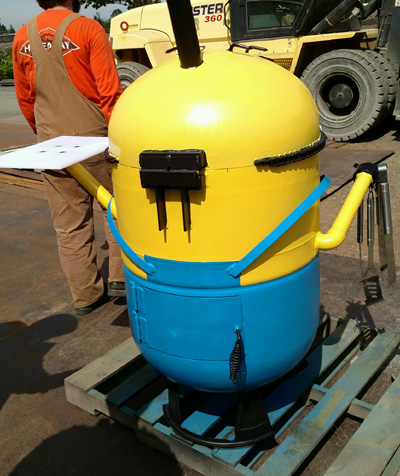 Boilermaker Matt Beck does his thing at Acrowood in Everett. Acrowood is the only company that employs Boilermakers within 104 that still uses Blacksmithing and Forging. Video was shot in slow motion, from start to finish actually only took 20 seconds. *Thanks to Brad Stedenfeld for the footage.
Lake Union Drydock in Seattle is looking for fitters and welders. Call the hall if you want the opportunity to be dispatched out for these positions.
(206)623-6473
The pictures below represent some artwork done by a fellow Boilermakers in the Portland area. He does tattooing on hard hats, drawnings, air brush,pretty much anything. If you would like more info on getting something like this done for yourself give him a call and he will quote you a price. Read More...
Brothers and Sisters, for a donation of $15 dollars to LEAP you can take one of these home!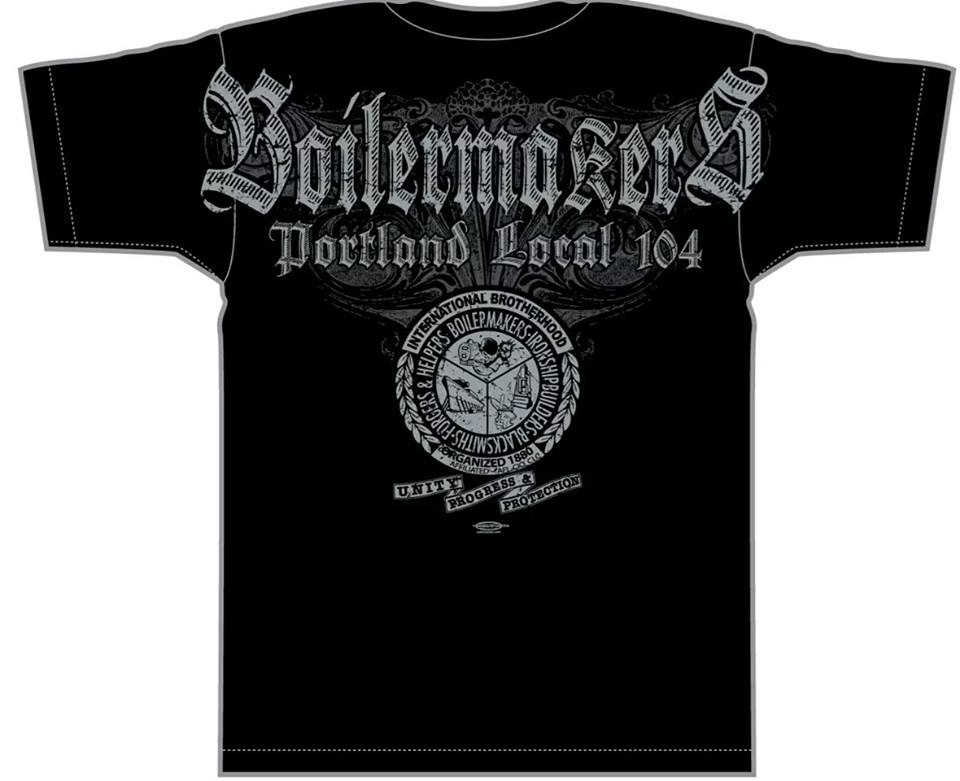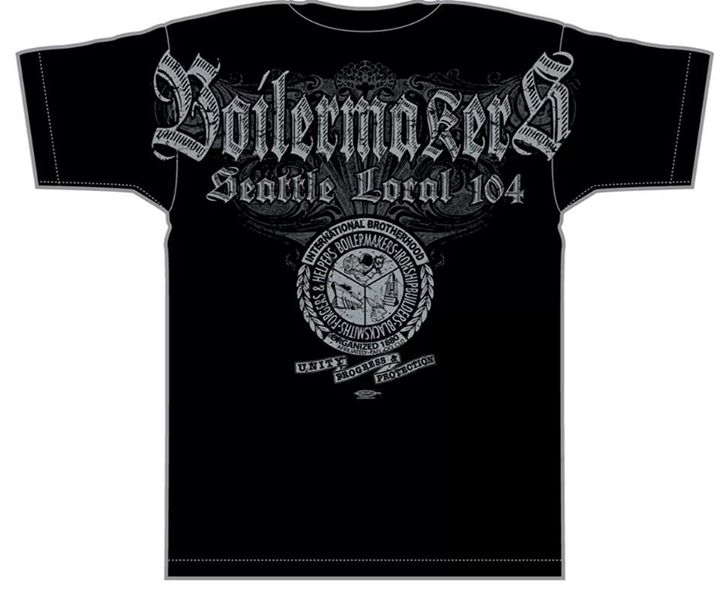 Brothers and Sisters, Local 104's next General Membership Meeting is scheduled to take place Saturday September 19th in Portland. The meeting will begin at 9:30 am at the Portland Local 104 Hall located at 2515 NE Columbia Blvd. As a result, we will not be holding our monthly informational meeting in Portland that are scheduled for the second Thursday or every month. Read More...
August 20, 2015
Current Events
Brothers and Sisters,
Historically our industry of Ship Building and Ship Repair seems to slow down during the summer months. As work begins to slow down, members get laid off accordingly. We've grown accustom to having a few months off during the summer to spend time with our friends and families, and some even look forward to having a little time off as well.
This practice is understandable, we work our tails off for roughly 8 or 9 months from early fall to late spring. However as our industry continues to change, we as members need to realize that we need to change along with it. Local 104 now has two (2) fully functional training facilities. One in Seattle and one in Portland. So as work slows down, and members get laid off, I'm encouraging all members, regardless of skill level, to utilize the training facilities that YOU pay for.
Something else that I'm sure you've heard me talk about during every membership meeting, is the fact that there's been a lack of active organizing efforts throughout Washington and Oregon the last few years. Local 104 needs your help to encourage and educate friends and family members working at non-union companies.
Seattle and especially Portland members keep in mind, that if you get laid off for any duration of time, you can help by applying at a non-union employer. I'm encouraging members to seek employment with our non-union competitors with the intention of creating discussion with the workforce. There are steps that Local 104 will help you with that could lead to a winnable organizing campaign. The point that I'm making is that without taking the first step, we aren't taking enough action to better our organization.
Keep in mind that Union Representation by the Boilermakers can be for any type of work regardless if the nature of work is related to shipbuilding, ship repair and metal fabrication. Boilermakers Represent Brothers and Sisters covered under Collective Bargaining Agreements with Taxi Services, Nursing, Golf Ball Manufacturing, Commercial Truck Driving, Car Washes and Electric Motor Repair. Basically there's nothing Local 104 members can't do.
Regardless of the nature of work your friends and family members perform, Representation is what matters. Not the name of the Organization Representing those workers. Spread the word, encourage and educate everyone you speak with on a daily basis. The greatness of our Brotherhood begins with the Brothers and Sisters belonging to it.
Below is a general list of our non-union competitors. If you've worked or know someone who is or has worked, or would like to apply and become employed at one of these employers listed below, please let me know. It is no secret that one of my biggest passions is organizing. There's no greater feeling than seeing a group of workers finally stand together and gain the power to control the terms and conditions they work under, while taking that power away from the employer.
Feel free to contact me or any Representative of Local 104 if you have any questions regarding organizing. I remain
In Solidarity,
____________________________
Brian Opland
Business Manager/Sec. Treasurer
Boilermakers Union Local 104