| | | |
| --- | --- | --- |
| Welcome | | You are not currently logged in. |
Organize Today!

Looking for more information on Organizing your workplace?
Click Here
| | | |
| --- | --- | --- |
| | | |
| | | |
| | | |
February 27, 2015
Metal Fabrication & Shipyard Workers
Question – Do you currently work for an employer that provides any of the following?
Negotiated Annual Wage Increases
Negotiated Health & Welfare Benefits
Negotiated Payment for Overtime
Negotiated Grievance Procedure
Negotiated Security Clause
Negotiated Contract Duration
If the Answer is "NO" to any of the questions above then ask yourself this,
Are you tired of not getting paid for what you're worth?
Are you fed up of how Management treats you and your co-workers?
Do you feel you deserve more than what you're getting?
Do you want to have a "VOICE" at your workplace?
Being Represented by International Brotherhood of Boilermakers Local 104 means leverage, power and your "VOICE" being heard when we sit down and negotiate the contract that "YOU' want.
Then it's time to take "ACTION" and Contact Boilermakers Local 104. Together, we can work and fight for the terms and conditions you and your co-workers deserve. It takes "ONE" phone call to begin taking action for Representation.
Lafarge of North America has a job opening for a full time Production/Shipping Operator. This is a position that is works under a Boilermaker contract.
If you want details on the job and its responsibilities click HERE for a downloadable PDF.
New shirts now in. Long sleeve, in three color combinations. Get yours for a LEAP donation of $23
Shipyard workers picket smoking ban
Several hundred shipyard workers at six Vigor Industrial facilities in Oregon and Washington conducted unfair labor practice (ULP) strikes Sept. 25 during their lunch break and at the afternoon shift change.
The Metal Trades Council of Portland & Vicinity and the Puget Sound Metal Trades Council filed an unfair labor practice complaint with the National Labor Relations Board (NLRB) after Vigor Industrial implemented a tobacco free policy Sept. 1 at all of its locations without bargaining in good faith. The job action involves workers at Cascade General, Vigor Marine and Vigor Fab at Portland's Swan Island ship repair yard.
Vigor Industrial employs..............
View the complete article HERE
On Thursday September 25th during lunch, members from all the different Trade Unions employed at Vigor Industrial lead by the Puget Sound Metal Trades took part in some Concerted Activity by picketing in front of all Vigor Industrial locations, which includes Tacoma and Portland. This was in response to Vigor's illegal decision to implement a policy without bargaining with the Unions. An Unfair Labor Practice charge has been filed with the NLRB.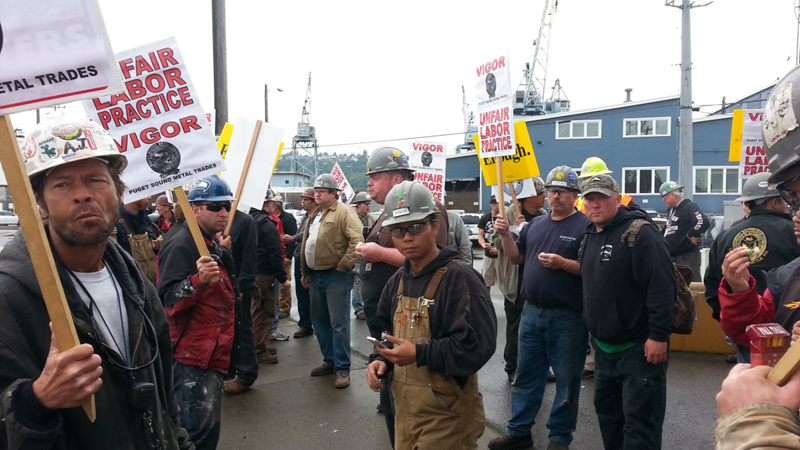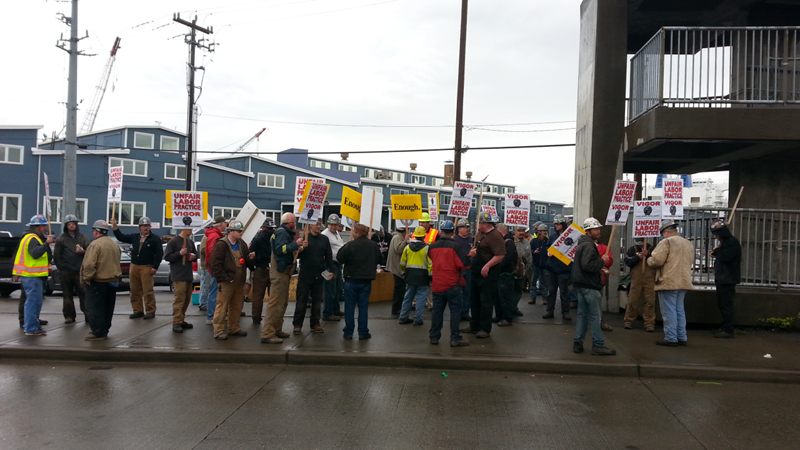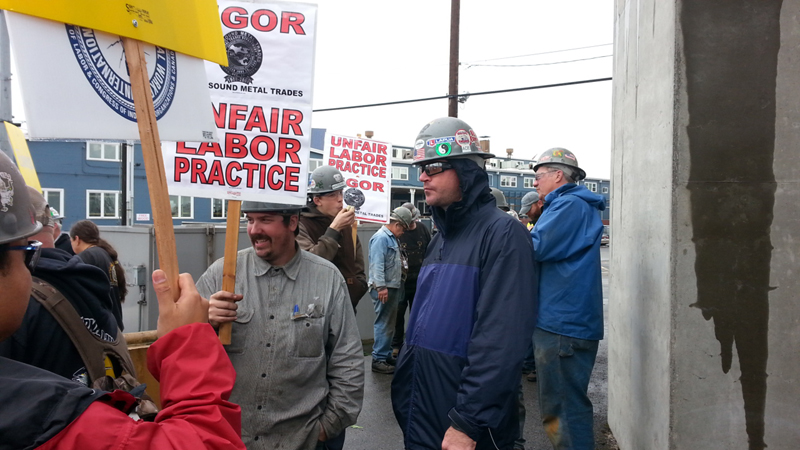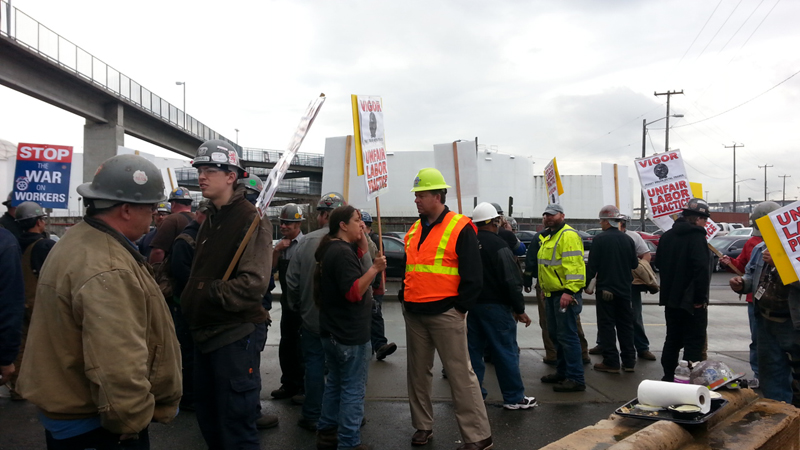 Why Unions Work
When I was considering my initial run for Congress in early 2006, one of my first priorities was a meeting with local organized labor leaders. At that point I wasn't seeking their endorsement (That would come later.); rather, I wanted to know whether their priorities were the same as mine, namely to work to create an economy that benefits every American and not just a few.
During our long meeting, it became clear to me that while they were certainly interested in a legislative agenda specific to unions, they were far more interested in a broader economic agenda that would help reverse decades of setbacks for the American middle class.
Indeed, it is not stretching to argue that the stagnation in earnings growth for the vast majority of American workers corresponds almost exactly with the drop in the percentage of the workforce represented by unions. Following World War II, unions once represented about a third of all workers in the private sector; today they can claim membership of less than 7 percent. Controlling for all other factors, union members earn between 10 and 30 percent more than non-union workers doing the same job.
So I was greatly encouraged by my conversation with those union leaders, because I had long felt that without a strong, vibrant organized labor movement, the middle class would have no voice in public policy debates.
Over the last eight years, my analysis has been proven correct. Organized labor has been among the most outspoken advocates for policies that would help jump-start the middle class. They support raising the minimum wage. They support the Paycheck Fairness Act, which guarantees that women are paid the same amount as men for the same work. They support increased investment in infrastructure, which will create millions of jobs and provide Americans a strong foundation for future growth.
Organized labor has also become a force in the drive for comprehensive immigration reform. They know that immigrants do not take jobs from American workers; in fact, many undocumented workers are exploited with low — sometimes illegally low — wages that hold down income for legal workers.
Finally, unions have supported health care reform, because they witnessed firsthand how rapidly rising health care costs over the past 20 years have limited wage growth for working families.
I am proud to say that I strongly support these priorities of my union allies.
I am also proud to say that I am working side-by-side with them to resist the long-running efforts of many conservatives to diminish the influence of unions on our debate over economic priorities. Those efforts have become obsessions of Congressional Republicans, who rarely miss an opportunity to try to enact anti-union legislation.
Both in Washington and in Kentucky's General Assembly, Republicans want to pass so-called right-to-work legislation, which would allow workers to freeload on dues-paying union members. Several states have enacted these union-busting laws, and nearly without exception, working families in those areas experience lower wages and a worse standard of living. Right-to-work laws have turned out to be right-to-work-for-less laws. I oppose them.
Congressional Republicans also have tried to repeal the Davis-Bacon Act, which requires that workers on federally funded public works projects be paid at least the prevailing wage in the area of the project. That legislation, signed into law by Republican President Herbert Hoover in 1931, has served the government and workers well by guaranteeing high-quality work for the American taxpayer. I will continue to oppose proposals to exempt projects from Davis-Bacon protections or to repeal the law outright.
Another area of controversy is trade policy. Ever since the North American Free Trade Agreement went into effect in 1994, there has been a debate over the impact of similar agreements on domestic employment, trade deficits and export opportunities. I want to be sure that any future free trade agreements include provisions that prevent exploitation of cheap labor and/or child workers, so that our own hardworking labor force is not at a disadvantage in international commerce. I also want to ensure that any trade agreements do not open our markets to imports without giving U.S. manufacturers similar access abroad. So far, the free trade agreements considered by Congress have been free but not fair to American workers and exporters, and I have opposed them.
Finally, at the federal level, there has been a fight over the core issue of the rules by which companies are unionized. Right now the rules are out of balance, with employers holding unprecedented power to prevent unionization of their organizations. For example, a union can be decertified (eliminated) through a simple majority vote of members, while the establishment of a union requires a multi-step process that allows resisting companies to employ a number of tactics to influence the votes of their employees. I think the process to establish a union should be on a level playing field with the process to eliminate one.
Over the past few decades, some conservative business interests have tried to convince the American public that labor unions are bad for the economy. Recent local history suggests this is far from the case. Our great labor leaders and members at Ford, GE, and UPS have become willing and collaborative partners with their companies, resulting in unprecedented growth and expansion. Thousands of new jobs have been created here in Louisville because unions and management worked together to build operations that can and do compete effectively around the globe.
As I mentioned earlier, the incredible wage and wealth gap in our country, which has grown to levels not seen since the 1920s, will not change unless the American worker has strong and active advocates. I am proud to have stood up for a dynamic organized labor movement, because the future of union and non-union families, and thus the future of our country, depends on it.