| | | |
| --- | --- | --- |
| Welcome | | You are not currently logged in. |
Organize Today!

Looking for more information on Organizing your workplace?
Click Here
| | | |
| --- | --- | --- |
| | | |
| | | |
| | | |
August 20, 2015
Current Events
Brothers and Sisters,
Historically our industry of Ship Building and Ship Repair seems to slow down during the summer months. As work begins to slow down, members get laid off accordingly. We've grown accustom to having a few months off during the summer to spend time with our friends and families, and some even look forward to having a little time off as well.
This practice is understandable, we work our tails off for roughly 8 or 9 months from early fall to late spring. However as our industry continues to change, we as members need to realize that we need to change along with it. Local 104 now has two (2) fully functional training facilities. One in Seattle and one in Portland. So as work slows down, and members get laid off, I'm encouraging all members, regardless of skill level, to utilize the training facilities that YOU pay for.
Something else that I'm sure you've heard me talk about during every membership meeting, is the fact that there's been a lack of active organizing efforts throughout Washington and Oregon the last few years. Local 104 needs your help to encourage and educate friends and family members working at non-union companies.
Seattle and especially Portland members keep in mind, that if you get laid off for any duration of time, you can help by applying at a non-union employer. I'm encouraging members to seek employment with our non-union competitors with the intention of creating discussion with the workforce. There are steps that Local 104 will help you with that could lead to a winnable organizing campaign. The point that I'm making is that without taking the first step, we aren't taking enough action to better our organization.
Keep in mind that Union Representation by the Boilermakers can be for any type of work regardless if the nature of work is related to shipbuilding, ship repair and metal fabrication. Boilermakers Represent Brothers and Sisters covered under Collective Bargaining Agreements with Taxi Services, Nursing, Golf Ball Manufacturing, Commercial Truck Driving, Car Washes and Electric Motor Repair. Basically there's nothing Local 104 members can't do.
Regardless of the nature of work your friends and family members perform, Representation is what matters. Not the name of the Organization Representing those workers. Spread the word, encourage and educate everyone you speak with on a daily basis. The greatness of our Brotherhood begins with the Brothers and Sisters belonging to it.
Below is a general list of our non-union competitors. If you've worked or know someone who is or has worked, or would like to apply and become employed at one of these employers listed below, please let me know. It is no secret that one of my biggest passions is organizing. There's no greater feeling than seeing a group of workers finally stand together and gain the power to control the terms and conditions they work under, while taking that power away from the employer.
Feel free to contact me or any Representative of Local 104 if you have any questions regarding organizing. I remain
In Solidarity,
____________________________
Brian Opland
Business Manager/Sec. Treasurer
Boilermakers Union Local 104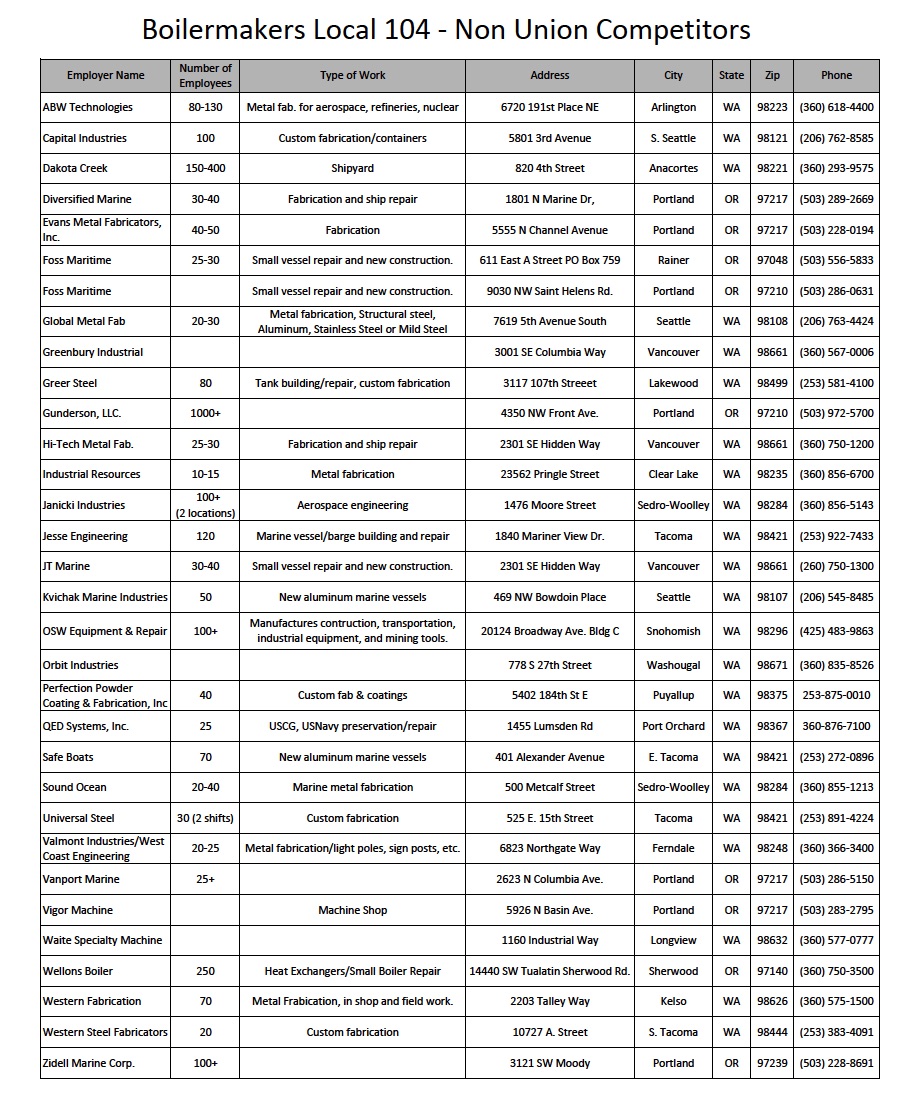 Call the Hall for info on this position.
Union Hall: (206)623-6473
Job starts in September- 50 hour work weeks. Testing starts immediately.
Call the Hall to inquire: (206)623-6473
We have a Seattle based shop that needs highly skilled tig and subarc welders. Call the Hall for more information.
Union Hall Phone number: (206)623-6473
Current Events
April 1, 2015
Dear Brothers and Sisters of Local 104,
The following is an update of recent changes that have taken place in the Vancouver/Portland area. The first thing I'd like to bring to your attention is the changes made to representation. Lance and Tami Hickey no longer work for Local 104. Therefore as a result, effective March 17th 2015, Steve Behling has assumed the representation duties and responsibilities for the Vancouver/Portland area.
Secondly I'd like to bring up the transition from the Vancouver office to your new Portland office. As I'm sure you've heard already, Local 104 purchased an office and training facility from Local 242. The address, phone and fax numbers are posted below. My goal is to be fully operating from this office by the time you read this letter. However if you need to contact your representative Steve Behling, I urge you to call his mobile number as you should for all reps of Local 104.
In regards to membership dues, Effective March 30th 2015, any and/or all members have the ability to pay dues online through your local website. For more information, visit the website listed below. With regards to paying dues in person or mailing in a check, this can still be performed. However I ask that if you mail a check, please send it to the Seattle office going forward. If you have any questions relating to your membership status, membership dues, employment status being laid off, hired or rehired, please contact the Seattle office until further notice.
BRIAN OPLAND, Bus. Manager/Sec. Treasurer STEVE BEHLING, Asst. BM
2800 1st Ave, RM 220 2515 NE Columbia Blvd.
Seattle, WA 98121 Portland, OR 97211
Office: (206) 623-6473 Cell: (206) 854-4902
Cell: (206) 250-0030 Office: (503) 288-5295
E-mail:brianopland@boilermakerslocal104.org Fax: (503) 288-5791
Email:stevebehling@boilermakerslocal104.org
BRIAN SELF, Asst. BM KRISTI ADAMS, Financial Secretary
Office: (206) 623-6473 Office: (206) 623-6473
Cell: (206) 854-4636 Fax: (206) 623-7176
E-mail:brianself@boilermakerslocal104.org Email:kristiadams@boilermakerslocal104.org
If you have any questions, please feel free to contact me at (206)623-6473
In Solidarity,
Brian Opland
Business Manager/Sec Treasurer
Boilermakers Union Local 104
Current Events
March 25th 2015
Dear Brothers and Sisters of Local 104,
This is a notice to any/all fellow Brothers and Sisters within Local 104. The following is an update of current events within the Membership. Typically, the Business Manager/Secretary Treasurer presents a report during the General Membership meetings each month. However, not every Brother and Sister is able to attend. This is unfortunate, although understandable. That being said, here is a brief update of current events happening throughout our Membership.
If you recall, Local 104 has been in the process of updating its software for the office. Needless to say it's been a struggle getting everything worked out while staying under budget. However I am pleased to write you and inform everyone that effective Monday, March 30th 2015, Members will be able to go online and view personal information and most importantly, Pay Dues Online !
Here are the steps for Members for logging into the website the first time:
Go to your Local Website at: http://boilermakerslocal104.org
On the left-hand side of the page, under Member Resources, click the link to Member Services. <--

OR CLICK HERE

.
This will open the website where you are required to provide a User Name and a Password to access your information.
To Log in the first time:
Your user name is the first letter of your first name, plus your full last name plus the last four of your SSN.
For Example: if your name is John Brown, and your SSN is 123-45-6789, then your login username will be jbrown6789.
Your initial password is your last name plus the last four digits of your SSN. Using the same name and SSN as above the password would be brown6789.
Note: After you login the first time, you will be required to change your password. Additional links will not be available on the site until you change your password.
Spread the word, let others know that your website is up and running. This has been much longer wait than originally planned. But now here it is so again, spread the word, encourage fellow Brothers and Sisters to sign up on your Local Website.
I look forward to seeing everyone at the next General Membership Meeting on April 22nd 2015 in Seattle. If you have any questions regarding General Membership Meetings, what is expected, and what to expect from attending, feel free to contact me or any Local 104 Union Representatives at any time. I remain
In Solidarity,
Brian Opland
Business Manager/Sec Treasurer
Boilermakers Union Local 104
February 27, 2015
Metal Fabrication & Shipyard Workers
Question – Do you currently work for an employer that provides any of the following?
Negotiated Annual Wage Increases
Negotiated Health & Welfare Benefits
Negotiated Payment for Overtime
Negotiated Grievance Procedure
Negotiated Security Clause
Negotiated Contract Duration
If the Answer is "NO" to any of the questions above then ask yourself this,
Are you tired of not getting paid for what you're worth?
Are you fed up of how Management treats you and your co-workers?
Do you feel you deserve more than what you're getting?
Do you want to have a "VOICE" at your workplace?
Being Represented by International Brotherhood of Boilermakers Local 104 means leverage, power and your "VOICE" being heard when we sit down and negotiate the contract that "YOU' want.
Then it's time to take "ACTION" and Contact Boilermakers Local 104. Together, we can work and fight for the terms and conditions you and your co-workers deserve. It takes "ONE" phone call to begin taking action for Representation.